A different type of newsletter
This is a different type of newsletter that I'm trialling, to talk about a few different things and ask you, to ask us a question! We have also reached a new milestone that we are overjoyed about and it's all because of you... thank you!
Hi everyone. It's great to be talking to you all again. This month we have reached an amazing milestone and we're halfway through our 12th Scottish Great Trail.
The Fife Coastal Path 🎒 🥾
We are just over halfway through The Fife Coastal Path having reached Fife Ness just south of Constantine's Cave at about mile 70.
Before starting to hike the coastal path, we had visited Fife a few times before, mainly to take Eve to the beach. Apart from these short trips, our knowledge of Fife was limited.
My knowledge of the Fife coast has always been associated with heavy industry, so I approached the Fife Coastal Path without many expectations above that... industry.
How wrong could I have been...!!!
The trail started off as I had imagined, following paths along the Firth of Forth with huge industrial structures in every direction. But it was easy walking and we met up with Sarah along the route at regular intervals.
There were a few gems that we passed however, that started to make me think that I had got it all wrong about the Fife coast, such as the beautiful village of Culross.
The further we hiked along the coastal path, the more picturesque and 'wild' it became, with the most dramatic changes once we had passed through the urban areas around Leven
From Leven the coast changed dramatically, becoming a lot more wild, rough and untamed, with a near explosion of wildlife, flora and fauna.

There are also loads of quaint villages and harbours, such as St Monans and Anstruther, to spend some time looking around, not to mention the many small and secluded beaches.
History and geology are everywhere and not just recent history. There are caves that have been inhabited for thousands of years to explore such as the Wemyss Caves that have carvings dating back to the Picts. Not even the Roman Empire could pacify the Picts 2000 years ago!
The biggest lesson we have learned is to be more flexible and adaptable with the route, as no map, guide description or waymarker(s) agree on what is the official or correct route! The good thing about this is it allows us a bit more freedom to explore and experience more of what the Fife Coastal Path has to offer and that is only a good thing on such an amazing and surprising trail!
Our excitement of what is to come in the second half is tangible and there is a genuine feeling of exhilaration for what lies ahead. We can't wait!
---
We have reached a milestone 🫶
We have reached 25% (1/4) of our fundraising target £10000 on Just Giving in aid of Scottish Autism, and we cannot thank each and every one of you enough!
The current total stands at a massive;
We could not achieve this without your help and support and from our heart to yours "thank you"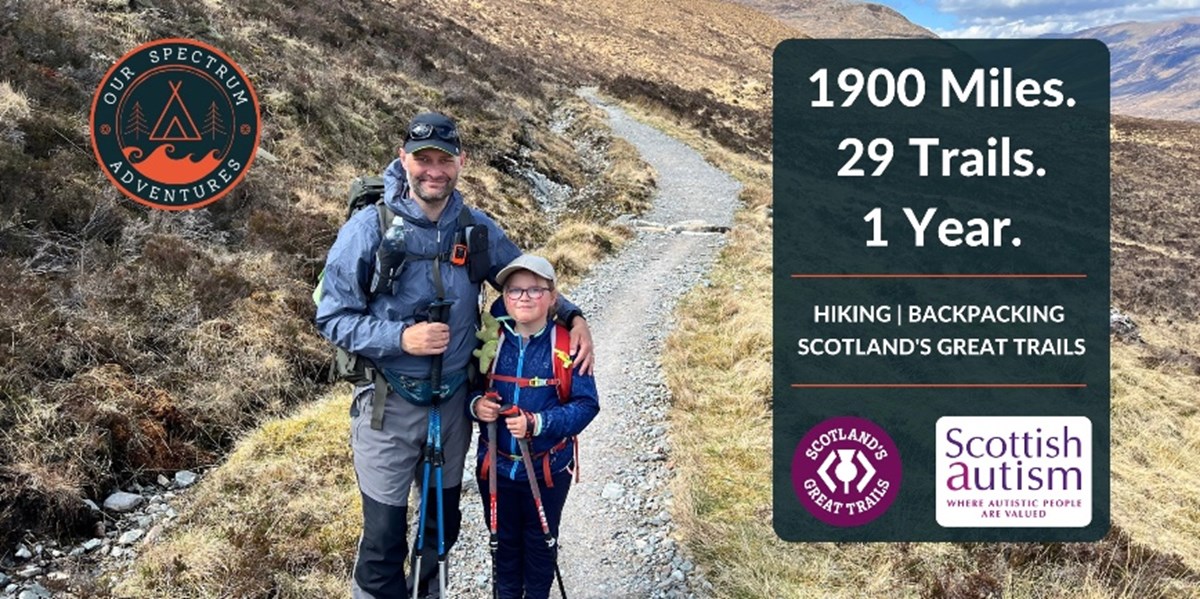 ---
Website update ☕
This website is where we see our future with social media being the main platform for general engagement. Having a website simply allows us to aggregate more of our content and writing efforts into one place. We are still trying to find our feet with it all, as well as plan for how best to make it work for everybody including you and us.
'Adventure' posts 🧭
One thing we started, but was so time-consuming was putting all of our daily Facebook hiking posts onto the website, intersecting the writing with images into a more typical 'blog-style' webpage. This took so long, that we have fallen behind.
One thing that I have contemplated is to simply link to the nightly Facebook posts I write on the website page for the particular trail we are doing (or whatever other 'adventure' or travel that we are on) with a brief description.
Sorry for my big head in the image below, I might have to be more careful what the first picture I select on Facebook is!
If you have any thoughts or ideas on this, please let me know, I would love to know what you think!
---
Questions & Answers ❓
We have done video-based Q&As before, but thought I would try doing it on the website if there was any interest from you or anybody else!
🙋
If you have any questions PLEASE let me know!
If you have any questions can you let me know in the comments/discussion section below or just drop me a message and I will try to come up with a format to answer them.
---
Have you read it? 📰
We have recently written a post about an awesome day out litter picking with the Real Food Cafe in Tyndrum which is on the West Highland Way. We had an awesome day despite the rain and met some wonderful people.
---
Before you go...
We are a small family team trying to do our best to do good things for others. There are so many ways to support us — please consider taking one action to help!
🙏 We are supported by people like you, you can get a membership here.
🎥 Follow us on Facebook here, Instagram here and now Threads here (we're going to see if Threads is worth the hype).
☕ Like what were doing? If you do, please Buy Us a Coffee here.
📩 Forward this to a friend and ask them to Subscribe here.
📢 Share us on social media and tell your friends about us.
🙋 Ask us a question, start a discussion or leave a comment below.